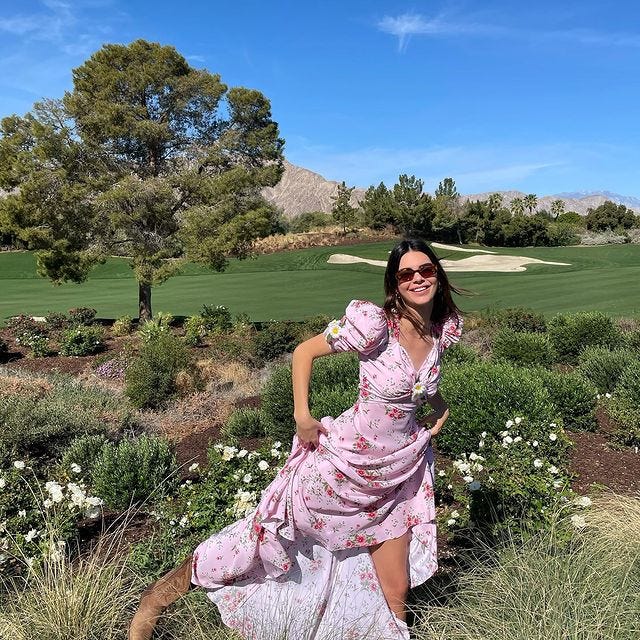 Kendall Jenner
We may still be spending Easter of 2021 in the midst of the pandemic but it's not the reason to skip all the fun. This year, celebrities had cozy celebrations at home, having fun with their loved ones, enjoying the warm weather on the country house terrace, picking up Easter eggs with their kids or dressing up their dogs in bunny suits.
1 of 13
Gigi Hadid
Gigi Hadid spent a peaceful Easter morning with her newborn daughter Khai dressed in a cute bunny costume.
2 of 13
The Beckhams
Queen of the British fashion scene Victoria Beckham shared pictures of the whole family spending Easter outside by the lake. Brooklyn Beckham and his fiance Nicola Peltz also came to celebrate with the parents.
3 of 13
Justin Bieber
Easter Sunday has become a big surprise for Justin Bieber's fans, as the singer dropped a six-track EP "Freedom" to accompany his latest album drop Justice.
4 of 13
Kate Hudson
Kate Hudson's daughter Rani Rose may get the award for being the cutest Easter bunny in the neighborhood.
5 of 13
Reese Witherspoon
While some go on Easter eggs hunt with their kids, Reese Witherspoon dresses up her pug Minnie as a bunny.
6 of 13
Britney Spears
Britney Spears' boyfriend Sam Asghari shared the couple's Easter Sunday spent at their home gym. That's a great reminder that working out with Spears' songs can lighten up any gym routine.
7 of 13
Kim Kardashian
Kim Kardashian celebrated Easter on a tropical spring break vacation.
8 of 13
Kendall Jenner
On spring break, Kendall Jenner has fun in the picturesque Californian countryside.
9 of 13
Chrissy Teigen and John Legend
Chrissy Teigen and John Legend organize an Easter party for kids, where Legend dresses up as a white bunny.
10 of 13
Elsa Hosk
Elsa Hosk, dressed in a beige knit set, shows off a beautiful Easter retro inspired look.
11 of 13
Mariah Carey
The fabulous diva Mariah Carey spent a lovely Easter Sunday afternoon with her dogs.
12 of 13
Kris Jenner
Kris Jenner spent her Easter golfing with Corey Gamble, Tristan Thompson and Travis Scott.
13 of 13
Miranda Kerr
Miranda Kerr kept it simple this Easter, cozying up in her pajamas.
This content is created and maintained by a third party, and imported onto this page to help users provide their email addresses. You may be able to find more information about this and similar content at piano.io
Original posted at www.crfashionbook.com