Disney does it again with Muppets Haunted Mansion, its latest theme park attraction-turned-movie project. Kermit and Miss Piggy aren't headlining this film, but all eyes are on Gonzo as he ventures into a haunted house for a frightening one-night stay. He's not the only famous figure in the film, as more than one dozen celebrities pop in for the spooky Halloween adventure, and one of them wields an ax. Check out who's lined up for the feature that lands on Disney+ on Oct. 8.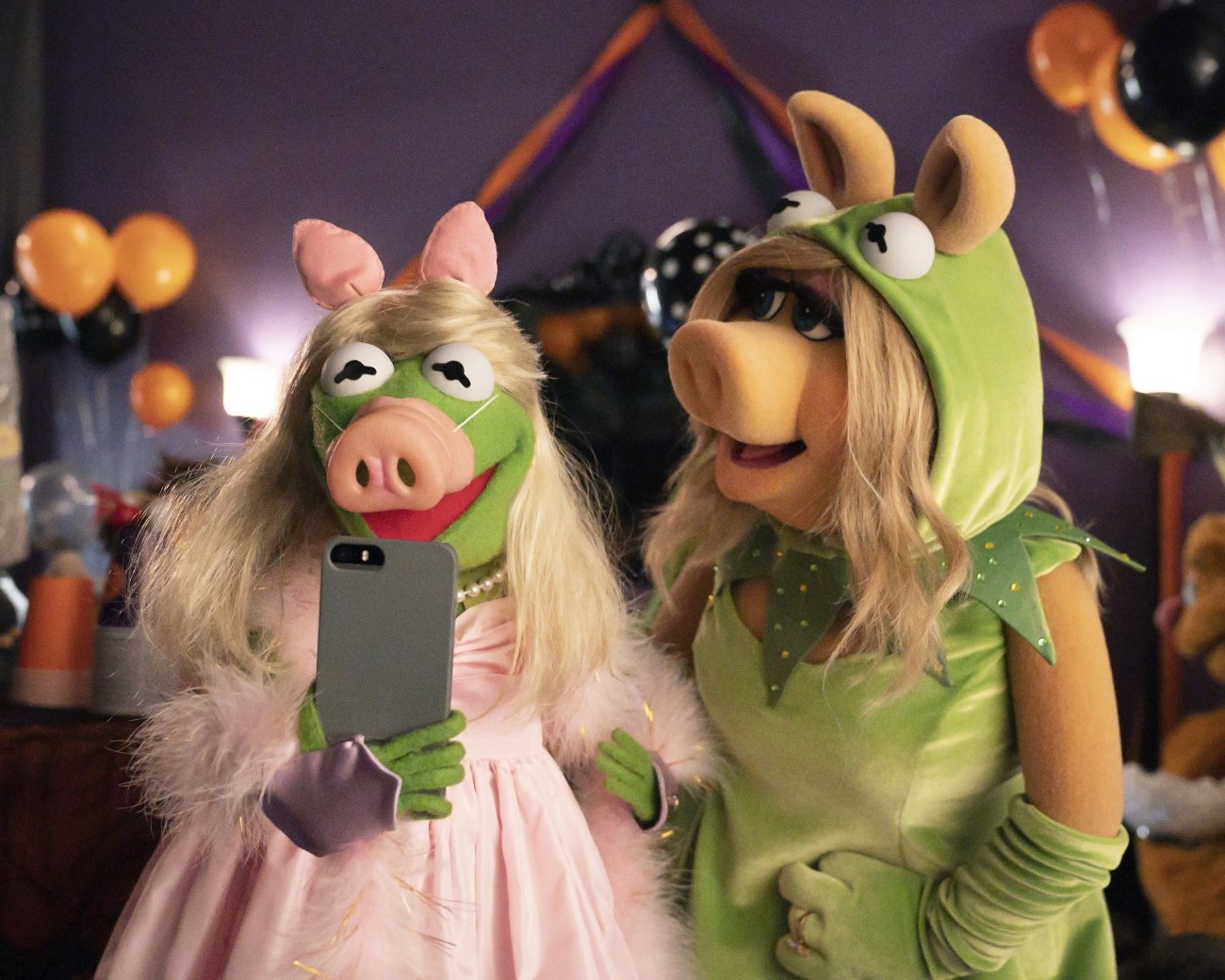 Will Arnett
Arnett is the host with the most ominous warning when Gonzo and Pepe the Prawn enter the building. He's one of a few non-ghostly characters in the movie. Or is he?
John Stamos
Stamos lucked out and gets to play none other than… John Stamos. Donning a fancy tuxedo, he has a chat with Pepe but it's unknown whether he's an unfortunate, permanent resident of the house.
Pat Sajak, Skai Jackson, Craig Robinson, Justina Machado
Wheel of Fortune's most famous face joins the fun as a singing bust. It's not every day that people get to hear Pat Sajak sing, let alone as part of a group of statues. Skai Jackson returns to Disney and makes her Muppets debut as one of the four singing busts. That means she may be part of a quartet that includes Sajak, comedian Craig Robinson, and One Day at a Time's Justina Machado.
Taraji P. Henson
Henson's undead bride Constance Hatchaway character makes a love connection with Pepe, which results in a musical number about staying together for eternity. Constance is a widow five times over, so perhaps this match isn't a good one.
During an appearance on Good Morning America, Henson shared that she's avoided going on the Haunted Mansion ride because she doesn't like "anything haunted." However, she enjoyed working with her favorite Muppets, Miss Piggy and Kermit.
Yvette Nicole Brown
Brown appears in the movie as the hearse driver. In Disney lore, this character is actually a ghost too, but Gonzo and Pepe probably won't realize it.
Danny Trejo
Trejo's form shows up as an apparition named Huet. He's dressed in jail stripes and behind bars, which is a nod to Huet's tombstone etching about not doing a crime.
Chrissy Metz
This Is Us star Chrissy Metz drops in as Harriet, an opera singer whose tombstone says she "searched for a tune but never could carry it."
Alfonso Ribeiro
Ribeiro plays the ghost Fred, one of the workers who did construction on the mansion before an untimely accident ended his life.
Ed Asner's last role was in 'Muppets Haunted Mansion'
Ed Asner died in August 2021, but not before getting in front of the camera one last time. He appears in Muppets Haunted Mansion as Claude, one of the house's previous residents.
Jeannie Mai Jenkins
Mai Jenkins brings Cousin Maude to life, a character whose place in the Dread family has murderous roots. Maude was one of six family members who once lived in the mansion before they all killed one another.
Sasheer Zamata
Saturday Night Live alum Zamata pops in as the ghost Mary, who according to legend, is looking for her lost love.
Darren Criss
Criss encounters Gonzo and Pepe as the cemetery's caretaker and mansion groundskeeper. And yes, he's among the living.
RELATED: From 'Muppets' to 'Sesame Street': The 5 Most Impactful Jim Henson Characters (Besides Kermit the Frog)
Original posted at www.cheatsheet.com