People gamble on anything these days. You can wager money on something as monotonous as the color of Gatorade that ends up on the winning Super Bowl coach at the end of the game. And now, with Bitcoin (CCC:BTC-USD) prices soaring ever higher, you can even bet on the next celebrity Bitcoin investor. As Bitcoin prices climb north of $64,000 for the first time ever, celebrities backers are coming into the spotlight.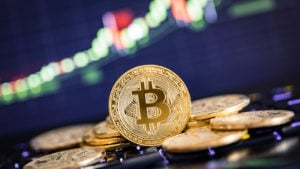 Source: Shutterstock
Investors want to know when a celeb endorses the currency, because a cosign from a Hollywood elite or Fortune 500 exec means real-world upswings for the coin.
Of the celebrities who haven't yet bought into BTC, Jeff Bezos is the next candidate for an investment. The Amazon (NASDAQ:AMZN) founder is predicted to sink a chunk of his wealth into the crypto, according to bookmakers. While he hasn't yet made the dive into the token, many other celebrities have, including his billionaire rival Elon Musk.
Elon Musk and Other Celebrities Go Big for Bitcoin
Elon Musk, typically a Dogecoin (CCC:DOGE-USD) fan, is one of the newest celebrities upping Bitcoin prices. The eccentric billionaire purchased $1.5 worth of Bitcoin through his company Tesla (NASDAQ:TSLA) back in February. The company has reeled in $1 billion in gains in the time since. In a further promotion of the crypto by Musk, his EV manufacturer is now accommodating purchases made with Bitcoin.
Bitcoin love doesn't stop with the world's wealthiest. There are a slew of famous people who back the token, one of whom is actress Gwyneth Paltrow. She published a Bitcoin guide on her holistic lifestyle website Goop back in 2018 in an effort to educate readers on the currency:
Great piece with @billbarhydt on @goop today https://t.co/cBoeHJ9ts7

— Gwyneth Paltrow (@GwynethPaltrow) November 5, 2018
Boxer-turned-podcaster Mike Tyson is even earlier to the Bitcoin game than Paltrow, launching a fleet of Tyson-branded Bitcoin ATMs in his Las Vegas stomping grounds back in 2015. A celebrity of similar iconic stature — Kanye West — is not proven to own Bitcoin, but he supports the commodification of it. West said on Joe Rogan's podcast that Bitcoin traders are paving "a new frontier."
.@kanyewest talking about how Bitcoiners are the true liberation of American with @joerogan.

We love to see it! pic.twitter.com/8x6t8Wvicn

— Bitcoin Magazine (@BitcoinMagazine) October 24, 2020
Some musicians have marketed their albums using Bitcoin as well. Notably, Icelandic singer Bjork and Long Beach rapper Snoop Dogg have allowed fans to buy their albums with Bitcoin.
Some celebrities have gone so far as to rebrand themselves as Bitcoin ambassadors, like actress Lindsay Lohan. Lohan is one of the loudest celebrity endorsers of Bitcoin, with many tweets proclaiming the coin as the currency of the future. Recently, she released her own Bitcoin-themed NFT.
bitcoin to the moon 🚀

— Lindsay Lohan (@lindsaylohan) February 10, 2021
On the date of publication, Brenden Rearick did not have (either directly or indirectly) any positions in the securities mentioned in this article.
Original posted at investorplace.com