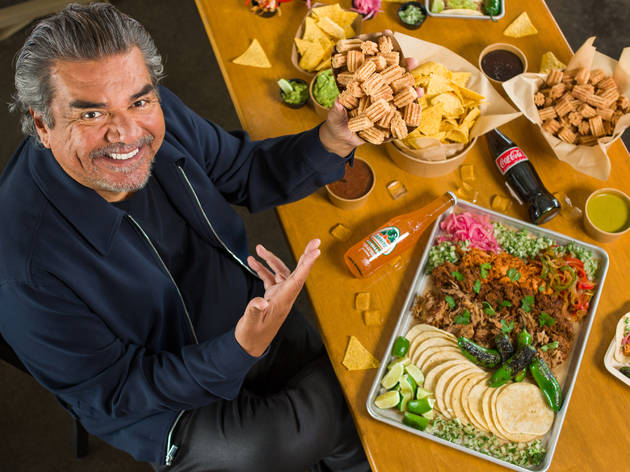 Dine on tacos from George Lopez, Wiz Khalifa's favorite stoner dishes and other celebrity food ventures.
Though the concept has technically existed for years, "ghost kitchens"—those delivery- or pickup-only restaurant ventures cropping up on food delivery apps—exploded into the zeitgeist over the course of 2020, offering restaurateurs a lower-cost (and social distancing-friendly) mode of keeping afloat in the pandemic economy. That's been a boon for small-scale kitchens, of course, but it's also become a useful vessel for celebrities looking to push their branded products beyond the realm of, say, low-cal wine or makeup lines. With a little coordination, plus help from virtual branding start-ups like Nextbite and willing franchisees, a single celeb can affix their name to dozens of ghost kitchens across the country in a matter of months—and hungry fans are eagerly awaiting their menus. 
Unsurprisingly, Chicago has proven to be a popular city for many famous folks to set up shop. Curious about whether your favorite A-lister (or B-lister, or C-lister) has slapped their name and face onto a local kitchen yet? Here's a roundup of current celebrity ghost kitchens operating out of Chicago and the suburbs, from Wiz Khalifa's stoner-friendly venture to the heart-palpitating creations of Guy Fieri's Flavortown. 
What is it: Starting June 8, actor-comedian George Lopez is launching a virtual taqueria that promises a "delicious and authentic George-driven taco experience," according to a press release. Tacos will arrive "deconstructed"—you'll put them together yourself—and come with meat options like pork carnitas, chicken tinga and beef ranchero verde, which you can pair with a side of chips and guacamole or drinks like Mexican Coke or Jarritos. The menu also includes churro bites, purportedly Lopez's favorite dessert. 

Where to order: Available on Uber Eats, Doordash, Postmates and Grubhub
What is it: Rapper Wiz Khalifa, who has also lent his name to a cannabis company, launched a menu last year featuring his favorite dishes to eat while stoned (many of which have amusingly referential names, like the "Mac and Yellow" mac-and-cheese). Choose from a series of entrees in small or large portions or grab a combo meal, like the hot Cheetos dust-sprinkled Blazed OG Cheetos Burger with a side of tater tots.

Where to order: Available on Uber Eats, Doordash, Postmates and Grubhub
What is it: TV host Mario Lopez (of Access Hollywood and Saved By The Bell fame) offers fast-casual Mexican bites, with meat and plant-based tortas taking center stage on the menu. 

Where to order: Available on Grubhub 
What is it: Forbes describes action star Danny Trejo's multimillion dollar taco venture as an "empire": Originally launched in LA with an eponymous cookbook in 2016, the restaurant has three brick-and-mortar locations in LA, plus ghost kitchen operations running out of the West Coast, Miami and, most recently, Chicago. Its expansive menu has taco options ranging from barbacoa and grilled chicken to vegan fillings like young jackfruit and mushroom asada. Diners can also opt for burritos or bowls.

Where to order: Kitchen United
What is it: The mayor of Flavortown himself has brought his artery-clogging American dishes to three locations in the suburbs, slinging bacon-wrapped jalapeño pig poppers, bourbon brown sugar BBQ wings and a bacon-and-mac-'n-cheese-topped burger, among other over-the-top indulgences. 

Where to order: Flavortown Kitchen website via Olo.com  
What is it: Rapper Tyga sells "Tyga Bites" (aka chicken nuggets) from an astonishingly large number of local kitchens. The nuggets are served with your choice of flavor dust, available in black garlic, lemon black pepper and peri-peri, plus a variety of dipping sauces. 

Where to order: Available on Uber Eats, Doordash, Postmates and Grubhub
An email you'll actually love
By entering your email address you agree to our Terms of Use and Privacy Policy and consent to receive emails from Time Out about news, events, offers and partner promotions.
🙌 Awesome, you're subscribed!
Thanks for subscribing! Look out for your first newsletter in your inbox soon!
Original posted at www.timeout.com