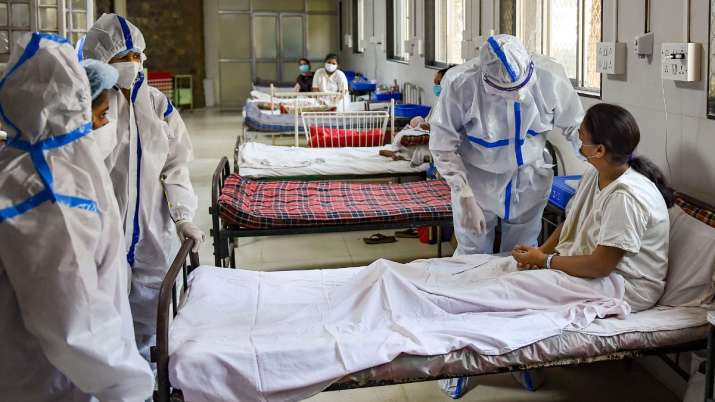 Coronavirus cases are increasing rapidly in the country. Millions of people are getting infected by it every day. There is a need of oxygen and beds everywhere in the country. Many new discoveries are also coming out about the new strain of Corona. Meanwhile, on social media, fake news are also getting viral, which has to bear the brunt of those who believe it to be true due to lack of information. At this time everyone is taking various measures to keep themselves fit. Let us tell you what are certain updates related to COVID and whether certain news doing rounds is true or not. Also, know about certain guidelines that have been released and measures that are being from various doctors and experts. Last but not the least, various celebrities throw light on how you can remain positive amid this hour of crisis.
Live updates :Covid India LIVE Updates
Refresh
May 09, 2021
12:06 PM (IST)
Posted by Shriya Bhasin

According to the Union Health Ministry data released on Sunday morning, India recorded 4,03,738 fresh COVID-19 cases in the last 24 hours, pushing the country's cumulative tally to 2,22,96,414, while the death toll climbed to 2,42,362 with 4,092 daily deaths.

There has been a sharp surge in infections over the past couple of months, making the second wave much worse than the first one that began in early 2020 and peaked in the last quarter of that year before the tally hit a trough in the first quarter of 2021.

May 09, 2021
12:06 PM (IST)
Posted by Shriya Bhasin

COVID-appropriate behaviour, vaccination main shields against all mutants, future waves: Experts

With the second wave of the COVID-19 pandemic ravaging the country and concerns being raised about a possible third wave, experts caution that the next wave could be less severe if people keep following COVID-appropriate behaviour and a large portion of the population is vaccinated. Several experts believe that a casual approach that followed the trough of the first wave could be a possible reason for the pandemic raising its head again, though others are also putting the blame on the new mutants and variants of the virus being more virulent.

K VijayRaghavan, Principal Scientific Adviser, had said on Wednesday last week that the third wave was inevitable and it was necessary to be prepared for new waves, but clarified two days later that the "insidious asymptomatic transmission" can be stopped if prescribed guidelines about precautions, surveillance, containment, treatment and testing are followed.

-PTI

May 09, 2021
12:03 PM (IST)
Posted by Shriya Bhasin

What is black fungal infection?

Mucormycosis, also known as black fungus, can turn dangerous if left untreated, doctors said on Friday amid reports of re-emergence of the rare deadly fungal infection among Covid-19 patients across hospitals in Delhi, Pune and Ahmedabad. The fungal infection is caused by a group of molds called mucormycetes. These molds live throughout the environment. Mucormycosis mainly affects people who have health problems or take medicines that lower the body's ability to fight germs and sickness.

The common symptoms associated with the disease include headache, facial pain, nasal congestion, loss of vision or pain in eyes, swelling in cheeks and eyes and black crusts in the nose. The US Centre for Diseases Control and Prevention estimates Mucormycosis with an overall all-cause mortality rate of 54 percent.

May 09, 2021
12:00 PM (IST)
Posted by Shriya Bhasin

1 in 9 adults struggled with mental health amid Covid

One in every nine adults consistently had very poor or deteriorating mental health during the first six months of the Covid-19 pandemic, according to new research. Those living in the most deprived neighborhoods along with ethnic minority groups were severely affected, said the team based at The University of Manchester, King's College London, Cambridge, Swansea and City University.

The researchers also found that infection with Covid-19, local lockdown, and financial difficulties all predicted a subsequent deterioration in mental health. However, two-thirds of adults were in groups whose mental health was largely unaffected by the pandemic, finds the study published in The Lancet Psychiatry.

-IANS

May 09, 2021
11:57 AM (IST)
Posted by Shriya Bhasin

Can tea treat COVID?

Certain viral messages claim that tea can prove beneficial in treating coronavirus. Here's the truth:

May 09, 2021
11:55 AM (IST)
Posted by Shriya Bhasin

Avoid touching your face unnecessarily. Germs and viruses can enter your body through your hands. Be careful, be safe. Remember, cleanliness, medicine, hardness, will win the fight with Corona.

May 09, 2021
11:53 AM (IST)
Posted by Shriya Bhasin

Even after defeating Corona, many people remain in danger. Doctors are saying that those who were more serious, need to be more careful because many readings are coming out about the side effects of the virus.
Original posted at www.indiatvnews.com