The man known as "Ochocinco" looks to make his mark in the ring.
Chad Johnson is, first and foremost, an entertainer.
The former NFL player has always had a flair for the dramatic, whether it was through his touchdown celebrations or, now, via his very active social media accounts. Johnson legally changed his surname to "Ochocinco" — to match the No. 85 on his jersey — back in 2008, and although he's since reverted to his birth name, he's kept the moniker as his middle name.
Since his retirement from professional football, Johnson's kept himself in the public eye through his social media, while also dabbling in the likes of soccer (he trained with MLS club Sporting Kansas City while still an active NFLer in 2011 and has travelled the world to watch the Beautiful Game), esports, and other disparate ventures.
But Johnson's biggest post-NFL leap comes on Sunday when the 43-year-old steps into the boxing ring as a competitor for the first time, taking on former MMA fighter Brian Maxwell in a four-round exhibition on the Floyd Mayweather Jr. vs. Logan Paul card.
Like Paul, Johnson earned his notoriety outside the ring. However, unlike the YouTuber, Johnson says he has no plans to continue a boxing career outside of Sunday's bout. Even though it's likely to be a one-and-done for the affable South Florida resident, Johnson is nonetheless taking his boxing debut seriously — and logging every step of his preparation on social media, of course.
Here's what we know about Chad Johnson vs. Brian Maxwell:
Why is Chad Johnson fighting Brian Maxwell?
As mentioned above, Johnson is an entertainer at heart, and with the biggest night of the boxing year so far coming to his backyard, it was a tough thing to pass up on.
Johnson told ESPN that he wants "to entertain," but doesn't want to embarrass himself or disappoint paying fans by putting on a poor showing against a combat sport veteran like Maxwell.
"People who are buying tickets, people that are showing up, I want them to leave and say, 'I doubted Ocho, but to see him get in the ring, knowing that someone tried to kill [him]. He put on one hell of a f—ing show,'" he said, noting that he's very aware of his status as a rookie in the ring. "I wouldn't step in the ring with [the] Charlo [brothers] or Canelo [Alvarez], but the opportunity presented itself to move around with somebody who has skills and has ring experience. I felt I was in adequate enough shape and had enough background to do it. With huge amount of respect for combat sports, I couldn't pass up the opportunity."
While entertaining is in his blood, it should be noted that Johnson will collect a tidy sum for his efforts. As quoted by ESPN, Johnson told the I Am Athlete podcast that he could make "a cool million" for his boxing debut.
Does Chad Johnson have boxing experience?
Not in a competitive sense, no. As noted, this is the first time he'll step into a ring as a competitor, but Johnson says he's been training in the boxing ring in the football offseason every year since high school to help with his hand-eye coordination. The former Bengals wide receiver has ramped up his training in recent weeks, sparring with twins Jermall and Jermell Charlo to prepare for his bout with Maxwell.
Johnson says the Charlo brothers have been putting him through his paces.
"Third round," Johnson told TMZ of a recent training session, "I was in the middle of the ocean with no life vest and I was f—ing drowning."
"It was an experience where I was taken advantage of, and it's a great thing. Obviously, going in the ring with someone that does it at the highest level and learning the mistakes. I like it like that."
He added, "There was no other way to prepare for something of this magnitude. I had to come here. It's just — there's no other way."
Who is Brian Maxwell?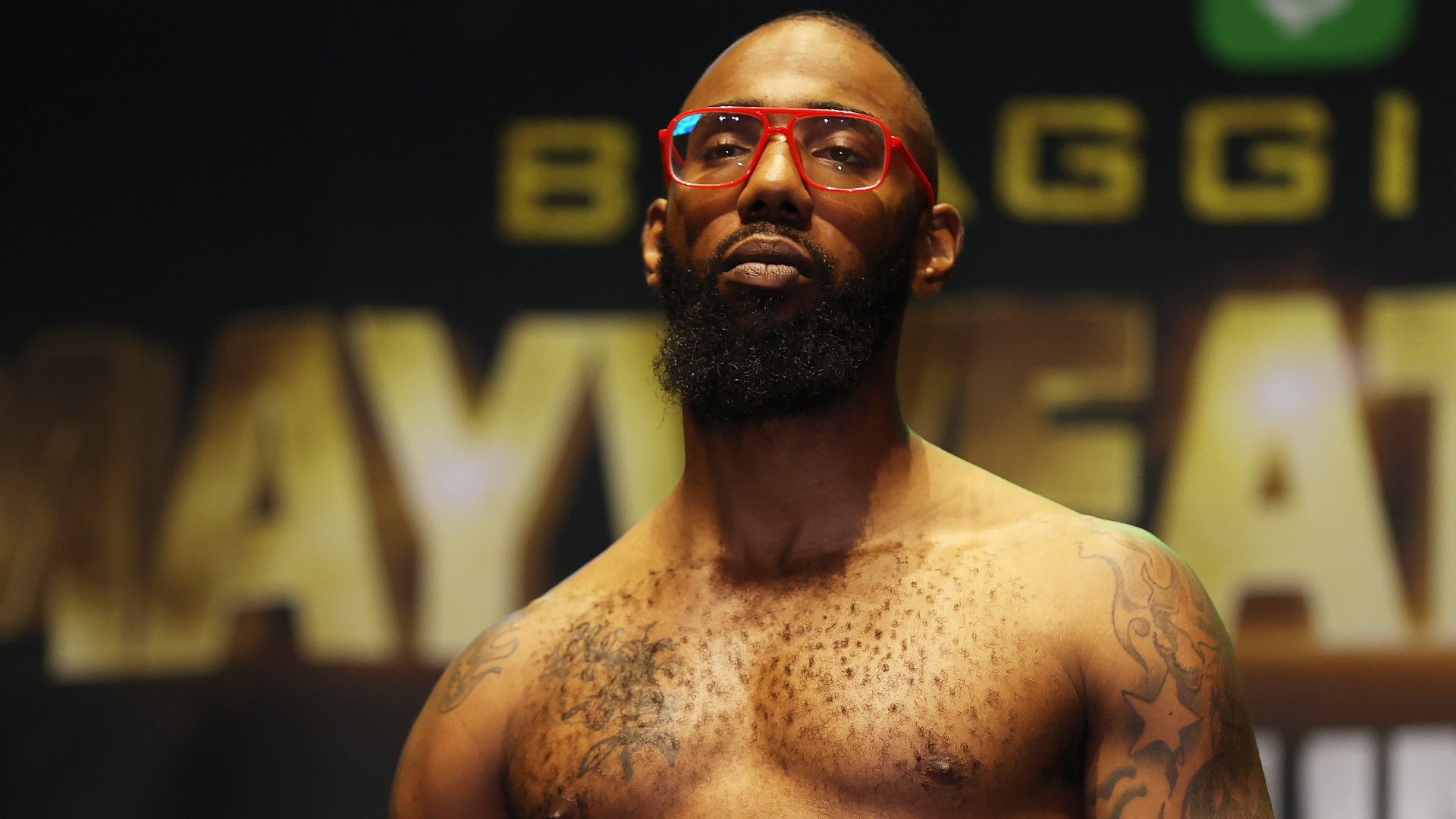 A 33-year-old from Rocky Mount, Virginia, Maxwell is definitely the lesser-known combatant in this fight.
However, what Maxwell lacks in notoriety he makes up for in experience — at least compared to his opponent. Maxwell has a 2-3 record in MMA and is 0-3 in the Bare Knuckle Fighting Championship, and while those aren't numbers to write home about, he's at least familiar with the environment.
Johnson realizes the imbalance in experience between him and Maxwell, telling ESPN, "I'm stepping into another man's environment, and he's trying to kill me. Period. It's about surviving, understanding what you've been taught and learned, being under control and executing."
As for Maxwell, he sees Sunday's tilt as a potential stepping stone to bigger things.
"I knew nothing about it until I was on Instagram and there was a post about [Johnson] fighting. I didn't think anything of it and then boom, here we are," Maxwell told Just Scrap Radio. "I'm ready to see what opportunities come after it. If I do knock him out or TKO him, I'm ready for whatever comes after. Once this happens and I get the stoppage, that will be instant superstar status for me. It will set up a lot of opportunities."
Chad Johnson vs. Brian Maxwell start time
Date: Sunday, June 6
Time: 8 p.m. ET
Johnson vs. Maxwell is part of the Floyd Mayweather Jr. vs. Logan Paul main card, which begins at 8 p.m. ET.  Mayweather and Paul are expected to enter the ring at around 10 p.m. ET (depending on the length of the earlier bouts). Johnson vs. Maxwell kicks off the main card.
How to watch, live stream Chad Johnson vs. Brian Maxwell
U.S.: Showtime PPV

UK: Sky Sports Box Office

Australia: Main Event

Rest of the world: Fanmio
You can watch the Mayweather vs. Paul on Showtime pay-per-view in the United States. You can watch the event online at Showtime.com and Fanmio.com.
In the United Kingdom, the fight is available on Sky Sports Box Office.
In Australia, the event is available on Main Event.
Viewers in the rest of the world can order the event at Fanmio.com (some restrictions/local blackouts apply).
Where is Johnson vs. Maxwell?
Johnson vs. Maxwell will be held at Hard Rock Stadium in Miami Gardens, Florida.
Chad Johnson vs. Brian Maxwell fight card
Floyd Mayweather vs. Logan Paul; Exhibition
Badou Jack vs. Dervin Colina; Light Heavyweight
Jarrett Hurd vs. Luis Arias; Middleweight
Chad Johnson vs. Brian Maxwell; Cruiserweight
Jean Carlos Torres vs. Zack Kuhn; Junior Welterweight
Adrian Benton vs. Pedro Angel Cruz; Lightweight
Micky Scala vs. Adam Ramirez; Junior Middleweight
Dorian Khan vs. Jonathan Conde; Featherweight
Jalil Hackett vs. Angelo Diaz; Welterweight
Viddal Riley vs. Quintell Thompson; Cruiserweight

​
Original posted at www.dazn.com