One of the newest trends in celebrity beauty is skin icing. You've probably seen this skincare practice all over Tik Tok. Some say it's a way to give dull skin a glow that lasts for days. Showbiz Cheat Sheet spoke with celebrity esthetician Nicole Caroline to learn more.
Showbiz Cheat Sheet: What is skin icing?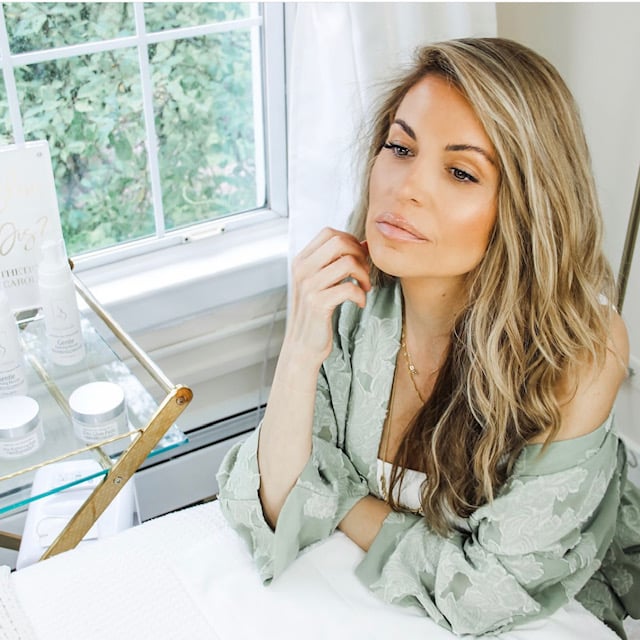 Nicole Caroline: Facial icing is something that has been around for a while. I created a technique that my clients loved (which thankfully didn't involve dunking your head in a bowl of ice water like Mommy Dearest, which I do not recommend!). My technique involves applying specially created skincare formulas depending upon their skin concerns through icing (which I do every morning).
The technique allows you to get the benefit of both the specially created formula and the ice, which helps temporarily tighten the skin but really helps reduce inflammation. It also helps with stubborn breakouts and provides a quick, easy way to reduce puffiness, especially under the eyes with the cold coupled with the light lymphatic drainage.
Blood flow is increased, which will give a beautiful glow to the skin. Pores (while they do not change in size) can appear refined temporarily, which is why it is my favorite to-do before a big event or before applying makeup. My ice spheres are loved among Hollywood makeup artists, as well as models and actors for this reason.
CS: Who is a good candidate for this skincare practice?
NC:  Mostly everyone is a good candidate for a quick facial icing. However, I do not recommend applying ice directly to the skin if you have rosacea, or if you have sensitive skin or are undergoing any kind of special medical treatment that would make your skin sensitive to the cold.
This is why I provide a sheet mask with my kit. This this is a wonderful way to get the benefit if your skin is a little more sensitive. Always message me first or check with your skincare professional if you have any questions.
CS: Can facial icing be done at home or should a professional do this?
NC: This can definitely be done by a professional, but during quarantine, I created a way for my clients to get the benefits of my professional icing treatments with my proprietary skincare recipes at home.
CS: What are some do's and don'ts when it comes to facial icing?
NC:
Some of my do's:
Do apply in the morning if you're unsure when to do it. Use my proprietary blends; they will dramatically improve results and the impact of using the icing technique.
Always move the ice (unless hovering over a cystic breakout for 15 to30 seconds).
Use over a sheet mask if your skin is sensitive.
Some of my don'ts:
Don't Leave the ice on the skin–always keep it moving!
Don't keep using if any type of reaction occurs. Stop immediately and consult your professional.
Don't use on children under 12 years of age.
Don't use directly over broken capillaries.
Stay tuned for more from our interview.
Follow Sheiresa Ngo on Twitter.
Original posted at www.cheatsheet.com