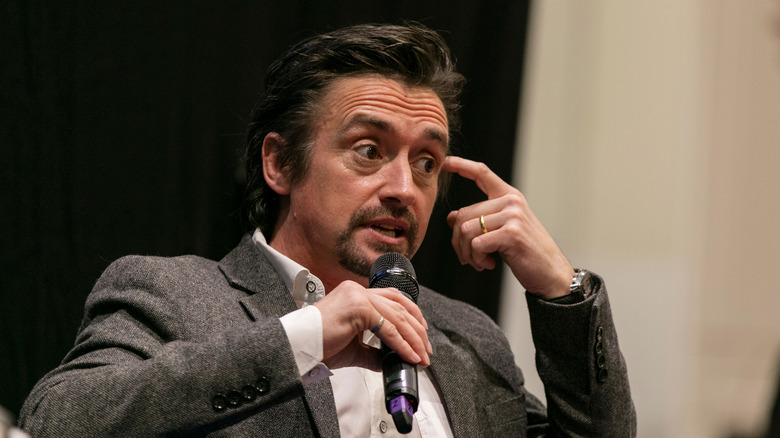 Ink Drop/Shutterstock
Being a celebrity can be a very lucrative business, and the biggest stars earn millions of dollars over their careers. Many of those celebs choose to spend some of their cash on building enviable car collections, filling hangars full of European exotics, American muscle icons, or cutting-edge hypercars. However, simply having the money to acquire expensive cars doesn't necessarily mean that these high-profile owners actually have the skills needed to drive them. Over the years, that's led to a number of eye-wateringly expensive crashes resulting in totaled cars and bruised egos.
That's not to say that every costly celebrity crash is down to the driver, though, as there are a few famous faces who simply seem to be a magnet for bad luck. From the reality star who got hit by a Prius at an intersection to an actress who had repeated collisions with aggressive paparazzi, sometimes it seems like there's no way these celebrities could have avoided totaling their cars.
Cristiano Ronaldo – Ferrari 599 GTB Fiorano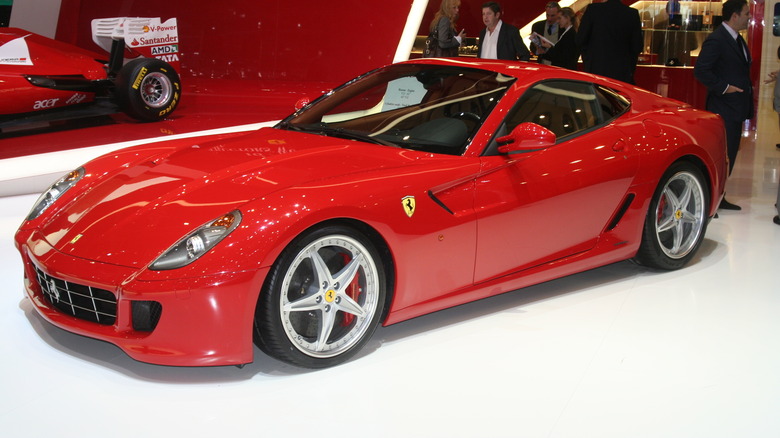 Vilius Steponenas/Shutterstock
Cristiano Ronaldo is one of the world's greatest soccer players, but it turns out he has less skill behind the wheel than he does on the pitch. In 2009, Ronaldo was driving his Ferrari from his home in Cheshire, England, to the Manchester United's training complex, when he lost control and crashed into the side of a tunnel. He escaped unhurt, but his 599 GTB Fiorano was not so lucky. The car's entire front end was ripped off in the collision, and the left side of the car was also badly damaged.
It later emerged that Ronaldo had only taken delivery of the car two days before the crash, and was driving it for the first time when he wrote it off. A fellow United player, goalkeeper Edwin van der Sar, was traveling behind Ronaldo in a Bentley at the time of the crash, but there was no suggestion that either party was traveling over the speed limit. Ultimately, Ronaldo emerged from the incident unscathed apart from a bruised ego, with the Guardian reporting that he was back to training, as usual, the same day.
Elon Musk – McLaren F1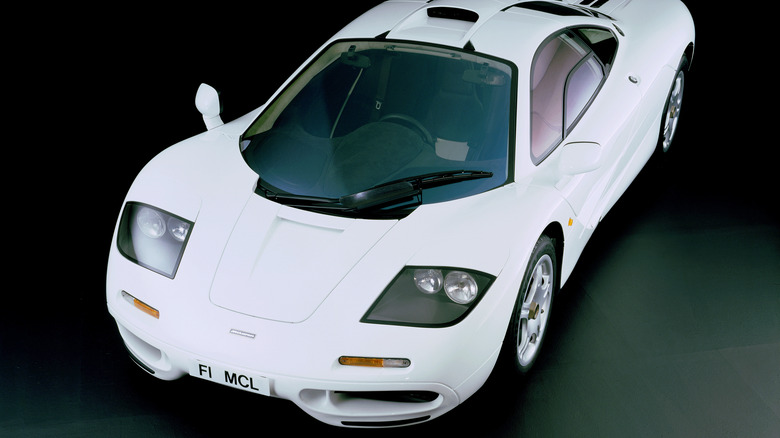 Heritage Images/Getty Images
Before he made his name as a leading figure in the world of electric vehicles, Elon Musk was a petrolhead with an appetite for speed. He was at the wheel of his McLaren F1 in 2000 when his passenger, the venture capitalist Peter Thiel, reportedly asked, "so what can this thing do?" Musk's response was simply, "watch this." He floored the F1's accelerator pedal, generating a huge burst of speed that Musk was unable to control. He spun the car out on the busy Silicon Valley road and hit an embankment, destroying the car in the process.
Somehow, both Musk and Thiel emerged unhurt. The men ended up leaving the wrecked McLaren at the side of the road, as Musk had no insurance for the car. Despite his apparent disregard for his million-dollar toy, The Drive reports that Musk did eventually pay to get the F1 fixed, and held on to it until 2007. This was shortly after he became CEO of Tesla, and he had decided it wouldn't look right for an EV pioneer to drive such a high-profile gas-powered car. It's not known who owns Musk's McLaren today.
Lindsay Lohan – Mercedes-Benz SL65 AMG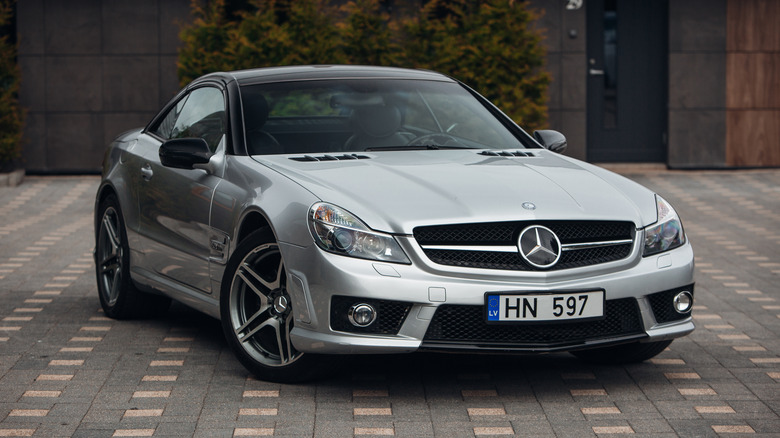 BoJack/Shutterstock
Actress Lindsay Lohan became known for her substance-fueled antics in the mid-'00s, ending up in rehab several times in an attempt to break her addictions. However, these stints in rehab weren't very successful, as shortly after leaving one stay in 2007, Lohan was arrested for drunkenly crashing her Mercedes-Benz SL65 AMG in Beverly Hills. Two other people were also in the car at the time of the crash, despite the fact that the SL65 AMG is a strict two-seater. The crash occurred on Sunset Boulevard at around 5:30 in the morning, with Lohan being taken to the hospital by an associate shortly afterward and being arrested after undergoing treatment.
Police later claimed Lohan had been speeding at the time of the accident, and an amount of cocaine was also found in her car after the wreckage. This wasn't Lohan's first crash, as in 2005, she'd also been involved in a collision with a van where the van driver was found to be at fault, and a second incident involving a vehicle carrying paparazzi, also in Los Angeles.
Salva Verdugo – Aston Martin Vantage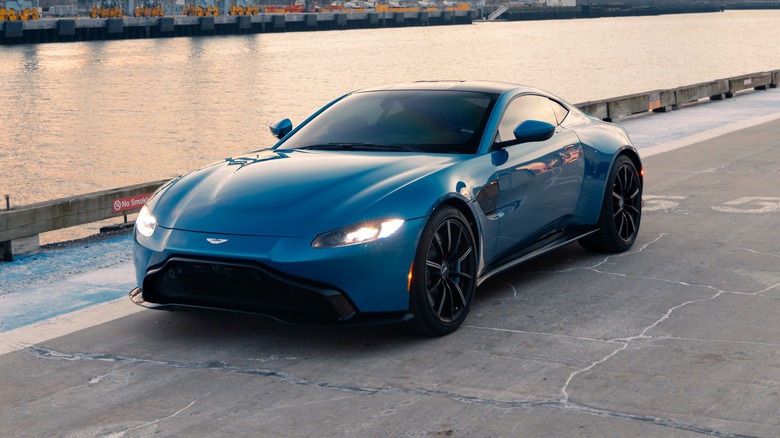 Ethan Yetman/Shutterstock
In 2021, Spanish YouTuber Salva Verdugo uploaded a video to the platform showing off his new Aston Martin Vantage, which he said was "the reflection of years of work." However, just days later, he uploaded a second video revealing that he'd crashed the car after trying to avoid an animal on the road. The social media star, who has 5.6 million subscribers, said he was traveling with his girlfriend and another friend when he lost control, veering off the road and ending up in a ditch.
Spanish police reportedly carried out a breathalyzer test on Salva at the scene and found traces of alcohol in his system. However, the YouTuber denied he was drunk at the time, saying he wasn't detained and still has his driving license (via Newsweek). The car was reportedly totaled, but both Salva and his passengers escaped the crash with only minor injuries. Footage of the immediate aftermath of the crash was later posted to TikTok by his friend.
Kris Jenner – Rolls-Royce Dawn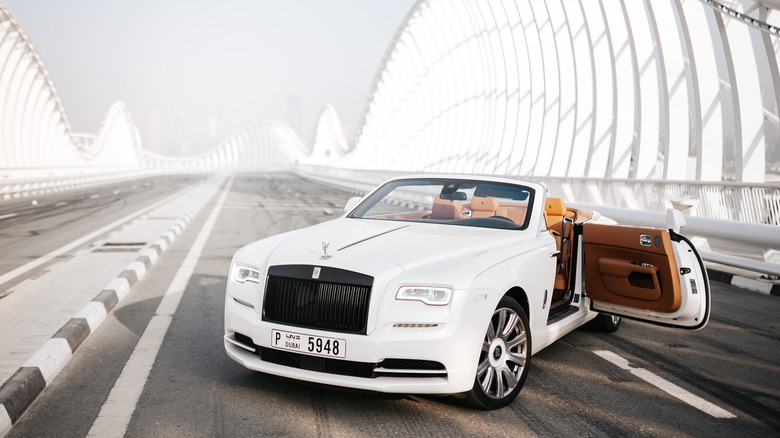 Maksim Denisenko/Shutterstock
The Rolls-Royce Dawn was released to customers at the start of 2016, and almost as soon as the first examples hit the roads, reality star Kris Jenner crashed one of them. To be fair to Jenner, the accident reportedly wasn't her fault, as her Rolls-Royce hit a Prius that had run a red light while turning onto a highway in Calabasas. It was reported at the time that Jenner was probably the first person to ever have an accident in a Dawn, and she was said to be "sore and shaken" after the ordeal.
The car was just one week old at the time of the crash, and reports differ on whether it was entirely written off or repairable. Photos from the scene show the car's front end being heavily damaged, but the rest of the car was left largely intact. The front airbag had also deployed, and it's unclear how much structural damage had been done to the car.
Afrojack – Ferrari 458 Italia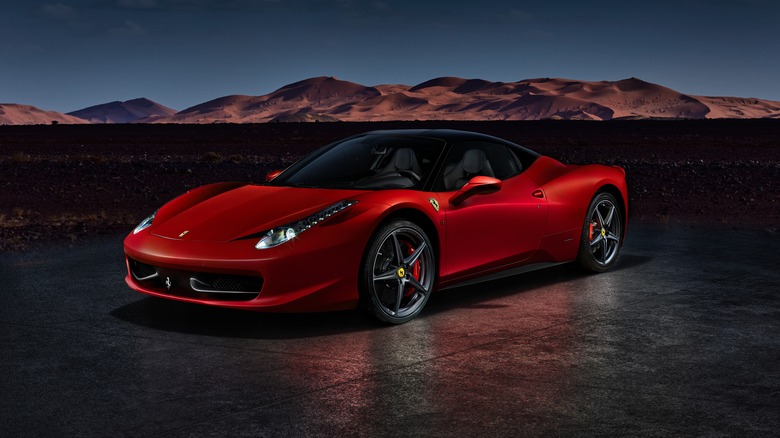 Artur_Nyk/Shutterstock
Dutch musician Afrojack was really hitting his stride in the early 2010s, releasing a string of hits and collaborating with industry legends like Calvin Harris and Nicki Minaj. In 2013, he decided to celebrate his success by buying a brand new Ferrari 458 Italia, but just an hour after he took delivery of the car, he crashed it. He later took to social media to explain that he'd been driving the car in bad weather and that both he and his passenger were okay after the smash.
Just two months after totaling his Ferrari, Afrojack would end up getting his driver's license revoked after being clocked by Dutch police doing 105 mph, 40 mph over the legal limit. This time, he was driving a newly-purchased Lamborghini Aventador to a Cars and Coffee event in his home country, and even though he lost his license on the way, he still made it to the event — in the passenger seat, however.
Gage Gillean – Pagani Huayra Roadster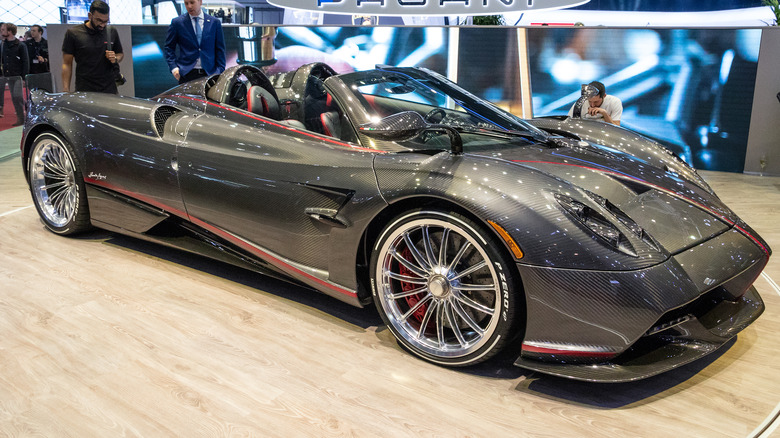 VanderWolf Images/Shutterstock
A teen YouTuber by the name of Gage Gillean hit the headlines in 2020 when he crashed his billionaire father's one-of-a-kind Pagani Huayra Roadster. Valued at approximately $3.4 million, the Pagani featured custom purple paint and gold wheels. The 17-year-old driver lived in Texas and reportedly hit the curb, catapulting the car into the air before hitting a tree. The Pagani was a write-off, but Gillean escaped with only minor injuries.
Crashing a one-off hypercar is one thing, but it was Gillean's unapologetic response that caused the most controversy. Taking to Instagram, News Australia reports the YouTuber wrote, "S**t happens. Thanking God for a second chance at life." He clearly wasn't too bothered about totaling several million dollars' worth of Italian engineering, but it's likely that his Dad wasn't quite so blasé about the incident when he found out. Gillean remarked that his father, the founder of a private equity firm, was "upset," but that seems likely to be a bit of an understatement.
Rowan Atkinson – McLaren F1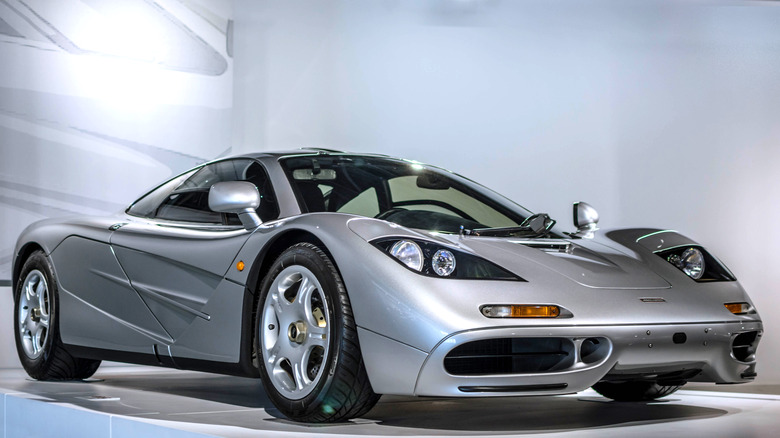 Johnnie Rik/Shutterstock
British actor and creator of Mr. Bean, Rowan Atkinson, is a renowned petrolhead who's owned a collection of highly enviable cars over his career. Perhaps his most famous car is his McLaren F1, which he crashed not once, but twice. His second crash led to one of the UK's biggest-ever insurance payouts, costing nearly £1 million ($1.12 million) to repair. It didn't stop him from driving the car though, as he reportedly covered 41,000 miles in it over his 17 years of ownership.
Atkinson listed the car for $12 million in 2015, and an unnamed buyer reportedly bought it for near the asking price, according to Car Magazine. He later said the reason he sold the F1 was that it "attracted a lot of fuss and bother on the road," and that he "liked it when no one knew what it was." There aren't many cars you could get into two serious accidents in and still sell for a huge profit, but then the McLaren F1 isn't just any car.
Richard Hammond – Rimac Concept One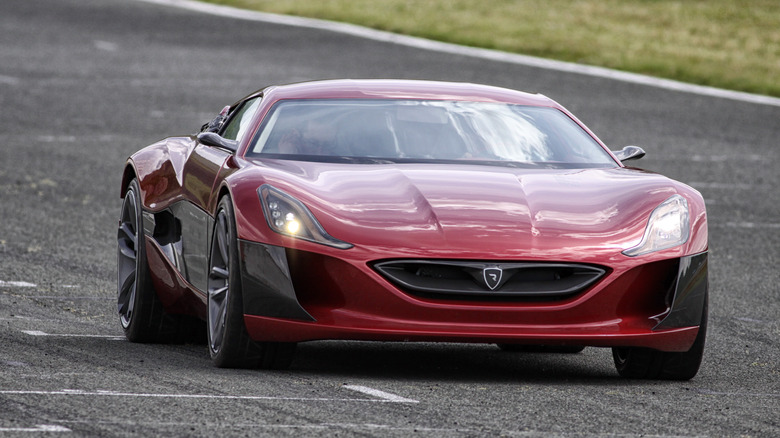 Igor Karasi/Shutterstock
While filming a segment for the second season of "The Grand Tour" in Switzerland, Richard Hammond lost control of the Rimac Concept One he was driving, dramatically rolling down a hill before the car burst into flames. Hammond emerged mostly unscathed apart from a fractured knee, but the car was a total loss, with only some charred remains left after the fire had been put out. Hammond and Rimac CEO Mate Rimac later analyzed the crash in an interview, with Rimac saying that he thought the accident was caused by Hammond simply approaching the corner too fast.
To make matters worse, Rimac also revealed that it was a customer car that Hammond crashed, and not one of the company's own. Only eight examples of the Concept One were ever built and Rimac stated that there were no plans to manufacture a replacement for the car Hammond ruined, so only seven survive. As embarrassing an ordeal as it must have been for Hammond, he's not the only person to crash a Rimac due to its immense power. Mate Rimac recently revealed that the Chief Technical Officer of an unnamed major automotive company also wrecked a prototype car after engaging "drift mode" and crashing into a pole. Like Hammond, the CTO emerged without serious injury, but the car was unsalvageable.
Scott Disick – Lamborghini Urus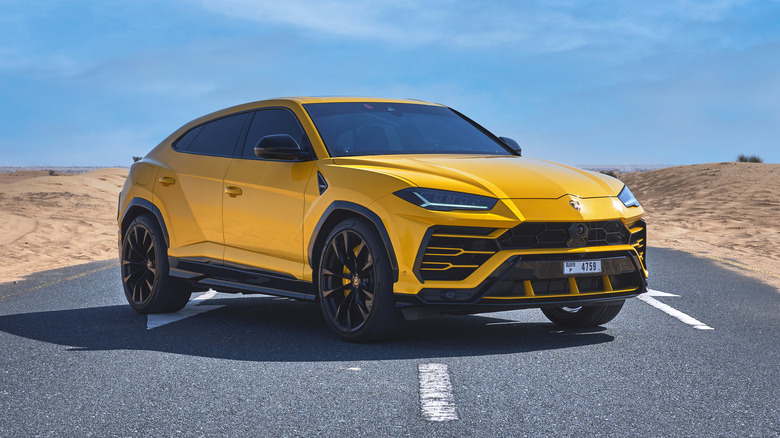 Camerasandcoffee/Shutterstock
Reality star Scott Disick is best known for his appearances on "Keeping Up With The Kardashians," and it seems that, just like Kardashian matriarch Kris Jenner, he has a habit of getting into expensive car crashes. In August 2022, Disick rolled his Lamborghini Urus in Calabasas, after seemingly crashing into a stone mailbox. Disick was not thought to be impaired and no arrests were made at the scene, so it's unclear exactly what caused him to have such a dramatic accident. No other cars were involved in the collision.
Disick reportedly walked away with only minor injuries, including a gash on his head, but the car did not fare so well. Photos obtained by TMZ show extensive damage to both the right-hand side and the roof of the Urus, and it remains unclear if the damage was repairable. Unusually for a reality star, Disick chose not to comment publicly on the situation and gave no further updates on the status of his trashed Lambo.
Lil Yachty – Ferrari 488 GTB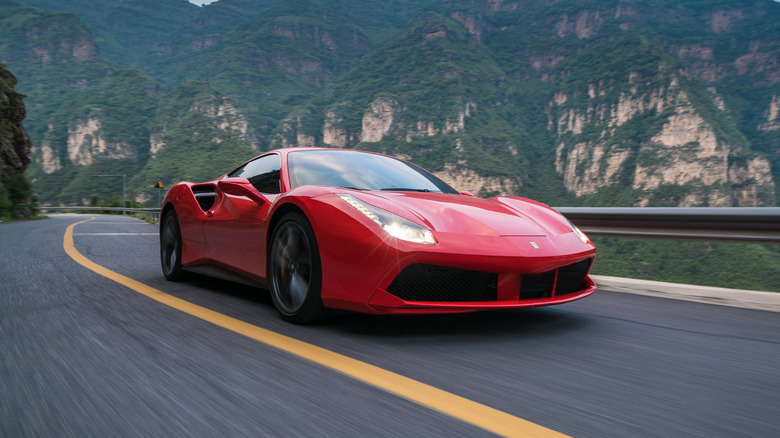 yousang/Shutterstock
Rapper Lil Yachty said he was "thankful for [his] life" after hydroplaning his Ferrari on a freeway in Atlanta and spinning the car, careering across several lanes of traffic before crashing into a wall. Reports claimed there was heavy rain in the area and that the rapper was driving too fast for the conditions, causing him to lose control and total the car. He also received a citation for failure to maintain lane and driving in the HOV lane, TMZ reports.
The car was a wreck, but Yachty was able to walk away from the crash with only minor injuries to his arm. As it turned out, the rapper didn't have to be Ferrari-less for long, as just two months after writing off his 488, he was gifted a new F8 Tributo by the CEO of his label, Quality Control Music. So far, he's managed not to wreck this one.
Original posted at news.google.com