Abdullah Qureshi, a musician, has said that he is giving up music for religious reasons. Qureshi explained his reasons for "being lost."
In a message posted on his social media platforms.
"I have received a ton of messages in this time asking about where I have been," he wrote. "I was on a break, pressed the pause button for a while and took this time to find out who I was, where I am headed and who I want to become." Announcing his decision to quit the music industry, Qureshi said, " want to take a moment to announce my exit from the music industry as I have decided to stop doing music as a full-time profession. I took this decision purely because of religious reasons."
— Abdullah Qureshi (@AbdullahQureshi) October 6, 2022
He added, "I had a great time making music, playing at concerts for thousands of people, getting loved and appreciated, facing controversies, making some wrong decisions, spreading some positivity, making some amazing friends, working with people who were my idols, learning from the best and doing what I loved doing." Sharing how he now believes that the actual purpose of his life is "way bigger than all of this", Qureshi remarked, "We have very little time in this world to make our afterlife better."
However, Natasha Baig, a singer, did not agree with Abdullah's comments and told what she thought about what he said. She stated people can leave the business if they want to, but they shouldn't make other people look like devils because music is holy.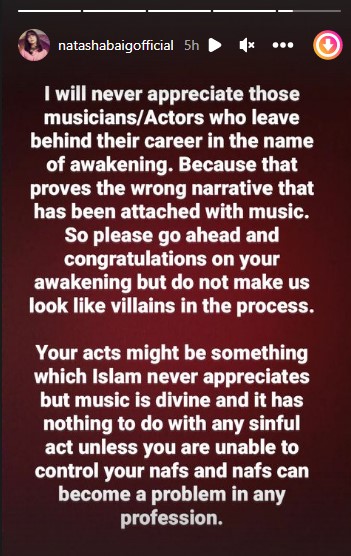 Anoushey Ashraf also agreed to Natasha Baig's comments: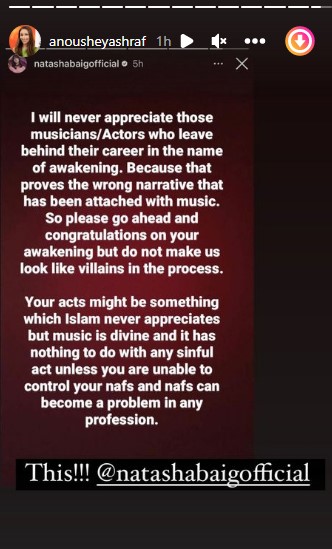 Read More News On
End of Article
BOL Stories of the day
Sarwat Gilani shares stunning photos from her trip to UK
Brad Pitt won't respond to Angelina Jolie's attacks
Kate Middleton wishes for another child with Prince William
Kim K reveals she didn't know about tortellini in Italy
King Charles prevented Prince Andrew from "taking advantage"
Noor Hassan and Mehrunisa Iqbal's hilarious video goes viral
In The Spotlight
Advertisement
Popular From Pakistan
Advertisement
Entertainment News
Original posted at www.bolnews.com