A number of celebrities have grouped together to defend Keanu Reeves after Matthew Perry made an odd comment about wanting him dead in his autobiography.
An extract from Perry's new memoir, Friends, Lovers and the Big Terrible Thing, caught the attention of many on the internet due to its disparaging remarks about John Wick actor Reeves.
"Why is it that the original thinkers like River Phoenix and Heath Ledger die, but Keanu Reeves still walks among us?" Perry wrote in his book. The reaction was mass outrage, and Perry has since apologized for his statement.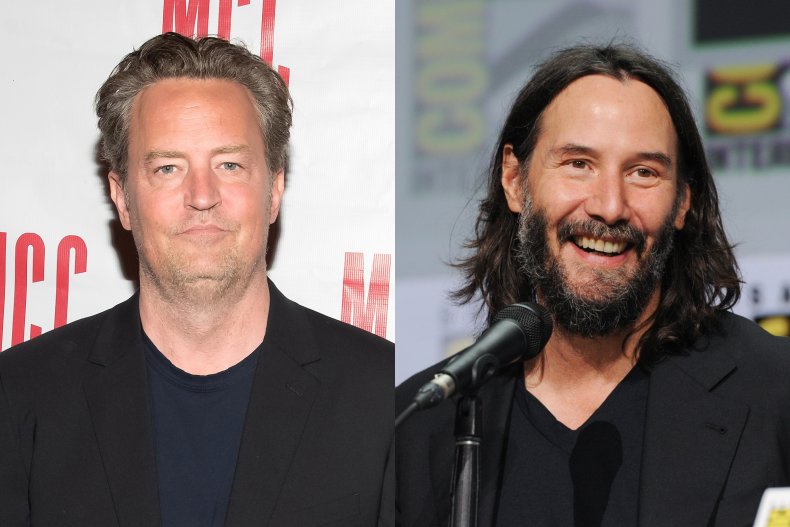 Thousands of people rushed to support Reeves online, with many criticizing Perry at the same time. Perry and Reeves both went viral late on Wednesday, when the extract caught the attention of social media.
Rachel Zegler, star of the recent West Side Story remake and upcoming live action version of Snow White, said she is "personally thrilled that Keanu Reeves walks among us."
Flatliners actor Billy Baldwin used the incident as an educational moment. "In a world full of Matthew Perry's… be a Keanu Reeves," he wrote.
Perry actually made a second reference to Reeves in the book, adding to his initial comment. After hearing that his former co-star Chris Farley had died in 1997, Perry recalled his reaction. "I punched a hole through Jennifer Aniston's dressing room wall when I found out." He added: "Keanu Reeves walks among us."
Others decided to point out the absurdity of Perry's words with humor. Writer and actor Michael Ian Black wrote: "Glad somebody is finally taking Keanu down a peg."
Comedian Matt Oswalt, brother of Patton, joked that the backlash to Perry's comments is "making me rethink the chapter in my autobiography detailing the time I stole Dolly Parton's car and ran over Henry Winkler," highlighting two more beloved stars.
"Keanu Reeves Forever," wrote author Meena Harris. "Keanu is off limits," said Supergirl actor Rahul Kohli, and even former Wonder Woman Lynda Carter weighed in: "Come on…" she wrote, "Keanu Reeves is like one of those frozen cakes. Nobody doesn't like him!"
Perry seemed to recognize the backlash forming against him and decided to make a statement to several publications, explaining his words and apparent beef with Reeves.
"I'm actually a big fan of Keanu," Perry's statement to Deadline reads. "I just chose a random name, my mistake. I apologize. I should have used my own name instead."
Perry's upcoming book is described on the promotional website as "an unforgettable memoir that shares the most intimate details of the love Perry lost, his darkest days, and his greatest friends." It promises to detail his struggles with addiction and deliver a message about hope and persistence.
He's going on a short book tour in November that will see him talk to crowds in New York, Princeton, Washington D.C. and Toronto.
Friends, Lovers and the Big Terrible Thing will launch on Tuesday, November 1, 2022.
Original posted at news.google.com