Beauty secrets of Bollywood celebrities revealed
By –
TIMESOFINDIA.COM
Created: Jul 1, 2021, 14:00 IST
facebooktwitterPintrest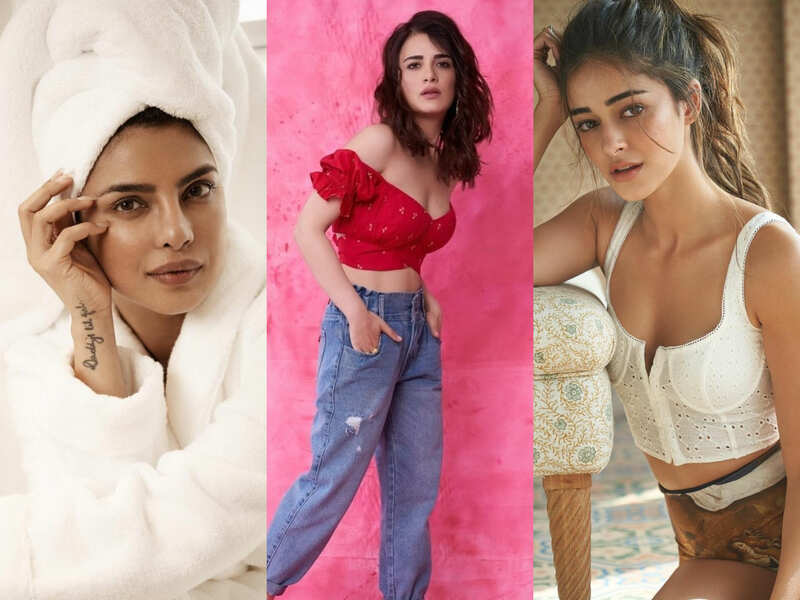 Celebrities influence our viewpoints, fashion trends, and beauty standards with every passing movie, award show, and even their social media posts.

These celebrity beauty hacks are legitimately life-changing for some and inspirational for others. We all have our idols for one thing or another and our Bollywood divas are definitely influencing our beauty game with their brilliant hacks. Scroll down and pick your favourites.
1. Priyanka Chopra
-Priyanka uses homemade lip scrubs to exfoliate her lips, and get glistening lips quickly at home. Her pouty lips need extra care and for which she makes sea salt lip scrub.
-Mix 2 teaspoon sea salt together with 1 teaspoon pure vegetable glycerine and 1 teaspoon rose water. Mix it up using your index finger and gently exfoliate your lips.
2. Radhika Madan
-Radhika uses a homemade face pack for her glowing, milky white skin. The natural shine on her face even without makeup is impeccable and that's why you need to try this face pack ASAP.
-Take a glass bowl and add 1 tablespoon of gram flour, 1 teaspoon of turmeric powder, 2 teaspoons of almond flour, and 1 tablespoon of saffron milk.
-Apply this pack all over your face as well as neck and leave it on for 15 minutes. After washing it off, apply a cream/gel-based moisturizer to restore the skin barrier.
3. Ananya Panday
-The 22-year-old actor uses a face mask recipe given to her by her mom which helps her hydrate her skin after a scorching and exhausting shooting day.
-Mix 1 tablespoon of unflavoured yogurt with 1 teaspoon of Turmeric powder and 1 teaspoon of honey together.
-She applies it as a cleanser to make her skin bright and fresh-looking. She likes to use her hands for applying the mask so that it can reach every corner. Massage this mask on your face and leave it on for 15 minutes.
4. Malaika Arora
-The actor is obsessed with body scrubs and maintains her youthful glow, she makes DIY coffee body scrubs.
-Mix 1 tablespoon of ground coffee powder together with 1 tablespoon of granulated brown sugar and a few drops of coconut or almond oil.
-Massage this scrub all over your body for a soft, supple, and moisturized skin texture.
5. Katrina Kaif
-Katrina regularly dunks her face in a bowl filled with ice cubes. Cryotherapy and cryo facials at home are popular skincare maintenance methods that people from all around the world have been recently seen adopting.
-Every morning, she does a 1-minute ice facial which helps in getting rid of puffiness especially around the eyes, inflammation, Skin-tightening, and oiliness. It also helps in cutting down your facial fat.
End of the article
Original posted at timesofindia.indiatimes.com