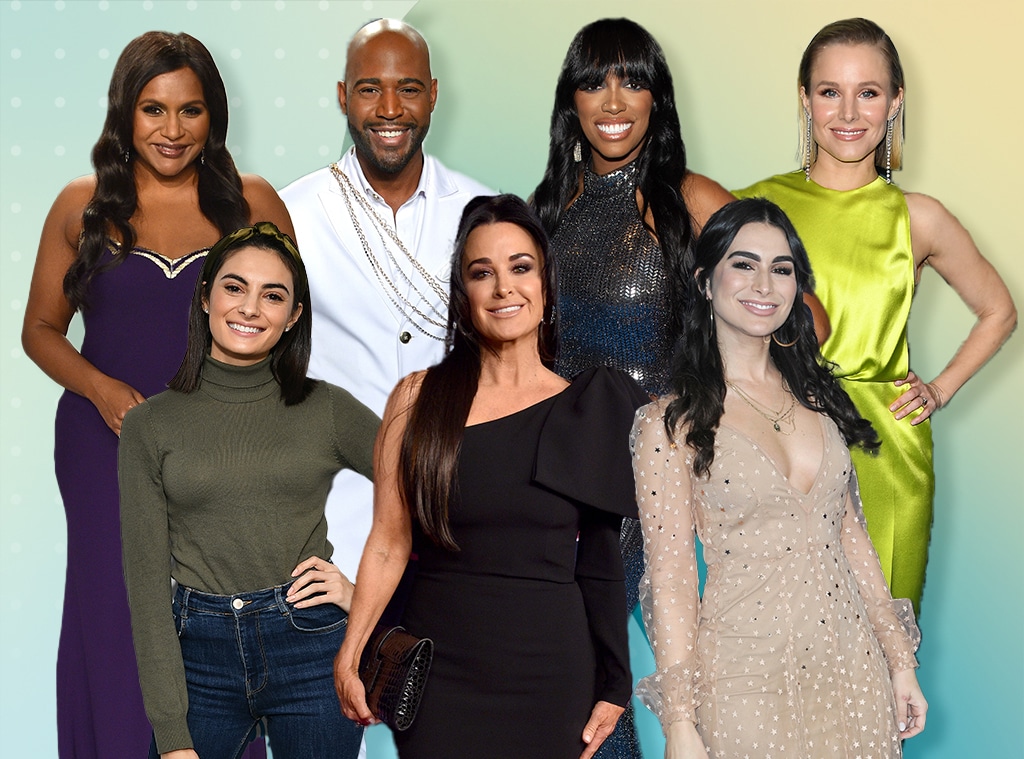 Getty Images
Some of the products shown are from the celebrity's own product line or a brand they are paid to endorse. E! has affiliate relationships, so we may get a commission if you purchase something through our links.  Items are sold by the retailer, not E!.
In case you didn't know, Amazon created Amazon Prime Day, which is an annual sale that has major discounts for Prime subscribers. If you aren't a Prime shopper, now is a great time to get in on the game with a 30-day free trial.  You're probably just as excited for Prime Day as we are, but we aren't the only ones. Believe it or not, celebrities shop during Prime Day too. Loving a good deal is universal, no matter how rich and famous you may be. That's why there are so many major celebs who are a part of the Amazon Influencer Program, which allows content creators to monetize their product recommendations to their followers.
Mindy Kaling, Karamo Brown, and Kristen Bell are just a few of those Amazon influencers all shared their picks that are available from small businesses on Amazon. Porsha Williams, Paige DeSorbo, and Ashley Iaconetti shared their beauty, home, and fashion selections during a recent Amazon Prime Day press event. But, that's not all. Kyle Richards participates in the program as well and she went on Amazon Live to share her Amazon shopping suggestion too.
If you want to know which products the stars have recommended, keep on scrolling to see their picks and why products are worth checking out.
Sweet Sweat Therapy Massage Gun
"This is one of my favorite things  that I love. The Sweet Sweat Gun is a therapy gun," Kyle Richards said. The Beverly Hills Housewife added, "My husband [Mauricio Umansky] and I use this all the time. I use it on my daughter Alexia [Umansky], who gets really tight back muscles. After I work out really hard, I will use it down my legs and on my back."
Better Grillin Scrubbin Stone Grill Cleaner-Scouring Brick
If you struggle to remove baked-on grease from your oven or grill, check out the Better Grillin Scrubbin Stone. Mindy Kaling included this on her Prime Day shopping list. This cleaning rock is powerful enough to get rid of encrusted grease, food, and grime when you apply some light pressure. It has 2,200+ 5-star reviews on Amazon.
Margaritaville Bali Frozen Concoction Maker with Self-Dispensing Lever and Auto Remix Channel
Porsha Williams revealed, "The Prime Day deal that I'm excited about has to be the Margaritaville blender. It's everything. If you like a nice frozen drink, it's all of that and more. You can do a mommy cocktail or just be the star of your event."
Contraband Sports 13019 Sport Face Cover / Sport Mask- Set of 6
These machine-washable face masks are great for activities where breath control is important, including running, cycling, and weight lifting. The masks come in a set of six and there are multiple color options to choose from. Kristen Bell include these on her list of Prime Day shopping recommendations and 3,100+ Amazon shoppers left 5-star reviews.
Bolden GLOW Hydrating Mask
Karamo Brown recommended the Bolden GLOW Hydrating Mask in his list of Amazon Prime Day shopping suggestions. Give your stressed-out skin some TLC in just 13 minutes. This mask is moisturizing and calming for most skin types. 
NuFACE Mini Petite Facial Toning Device, Mini Device + Hydrating Leave-On Gel Primer
"This is a five-minute facial and everybody needs it. It's a facelift," Summer House star Paige DeSorbo shared during an Amazon Prime Day press event. The reality star remarked, "I'm telling you it's one of the best things ever. You literally just turn it on and go up and down on your face and your face just tightens and it looks like you got Botox. For all the girls out there who don't want to inject your face with anything, yet, this is the perfect thing and this never goes on sale and this is going to be 30% off."
T3 Twirl Trio Interchangeable Curling Iron
Paige shared, "This is not just any curling iron. This is the T3 Twirl Trio Interchangeable Curling Iron. This is also going to be 30% off." 
What makes this curling iron stand out? The fashionista explained, "It comes with  these three different attachments, which just make life so much simpler because usually you're buying different barrel[s], different sizes [because] you want different curls. And I hate that. It absolutely annoys me because I live in New York City and I don't have space in my bathroom to have 47 different curling irons for a different look that I want. This makes it so much easier and also, it's really cute."
Paige concluded, "Things like this don't go on sale usually and that's why Prime Day is one of my favorites."
GoWISE USA 8-in-1 Digital Air Fryer with Recipe Book, 7.0-Qt, Black
"The GoWise Air Fryer is amazing," Porsha declared before explaining, "I'm trying to be a little bit more healthy, so it's a way for me to fry and be responsible, you know?"
Levi's Women's 721 High Rise Skinny Jeans
Ashley Iaconetti began, "There are these Levi's Women's skinny jeans and  they're up to 40% off on Prime Day. There are just certain brands that you never see go on sale and Levi's is one of them." The Bachelor in Paradise fan favorite recalled, "I got them in the mail and I just popped them on and they fit everywhere perfectly," admitting, "I always have a hard time finding jeans that fit around the waist and these are perfect."
If you're looking for beauty products, check out these Prime Day deals that are tough to resist.
Original posted at www.eonline.com