Live From New York!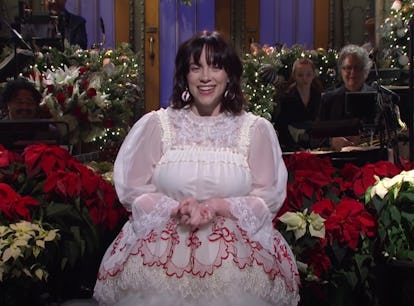 Their appearances were unforgettable.
YouTube
Live from New York, it's Saturday Night Live's double duty club! Since the sketch comedy show premiered in 1975, SNL has given viewers some legendary, controversial, and somewhat odd moments. Even with the show's creative frills, their most impressive feature is the few celebs that have doubled as both emcee and musical guest every season.
According to Insider, 36 musicians have nabbed a host and performing gig on SNL, and that number continues to grow. IYDK, Megan Thee Stallion is the latest artist to balance both duties during her Oct. 15, Season 48 episode. Her appearance joins the ranks of Lizzo, Billie Eilish, Harry Styles, and Taylor Swift, who have also pulled off hosting and performing on SNL. Now that's some real hot girl sh*t.
This notoriety might not seem too special, especially since an episode wouldn't be complete without a celebrity guest. However, not every person that's appeared on the Studio 8H stage has been granted these dual titles, so it's a pretty big deal.
In honor of the Hot Girl Coach's recent induction into the exclusive club, here are 10 celebrities who've jointly hosted and performed on the comedy series over the years.
Original posted at www.elitedaily.com